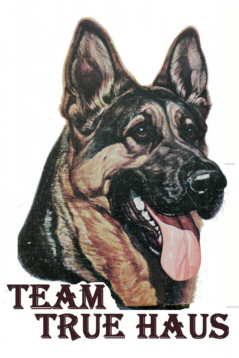 SDA WESTERN REGION'S
REGIONAL TRIAL
HOSTED BY TEAM TRUE HAUS
Trial date 11-19-2016



There is no membership fee to SDA for owner/handler. There is a onetime $25.00 registration fee for your dog to SDA separate from our entry fee.

Class offered:
Division 1 Protection classes: P1, P1S, P1M, P2, P2S, P3, P3S
Division 2 Police dog classes: PD1, PD2, PD3
No FO's, OB1-OB3 or TR classes, protection classes only. A failing score in the protection does not allow the team to fall back to an OB title.
Entries will be limited to 20 dogs per day with the exceptions below:
1. For each PD3 team entered, reduce the 20-dog limit by two.
2. If there are no PD3 teams entered, you may increase the 20-dog limit by as much as four.
So be sure to get your entry in early.
Limit of three dogs per handler.
Pre entry $80 per class PRE ENTRIES DUE BY SATURDAY, Oct. 29, 2016
day of show entry $100 per class. Entries will be limited and on a first to enter basis
MAKE CHECKS PAYABLE TO: Cindy Reed 2280 Louis Ave., Oroville, Ca. 95966
NO REFUNDS UNLESS EVENT IS CANCELLED
Trophies for first, ribbons for second place
Starting time: Entries 8-8:30 am Trial 9:00 am
Judge: Barry Vradenburgh and Brian Perterson
A regional trial requires two non-trialing judges whose scores are averaged for the final score. Judges will not be providing critiques.
Score sheets will be given to the trial secretary for totaling and scores will be posted to score board. Score sheets will NOT be given out to handlers.
Decoys: Jeremy Friedman, Jonathan Schnur, Chilo Gudina
Location: True Haus Kennels
2280 Louis Ave.
Oroville, Ca 95966
LUNCH: Food and drinks will be available for purchase on site.
Spectators and parking free
Contact: Cindy Reed for entry forms or more information.
Email:
james@truehaus.com
Phone: 530-534-5678
Or online form:
click here
---
Training thought:
It is absolutely important to have a plan when you walk out onto the field...but at the same time you must be able to give and take as needed...Just because you plan on doing something...doesn't mean that your dog is ready or willing to do just that...So be ready to change your plans on the field as needed...
Not only do we want to teach our dogs new things...but we ourselves must be ready to learn too...
---
Anyone wanting to sponsor please contact Susan Peterson. email click here